Latest News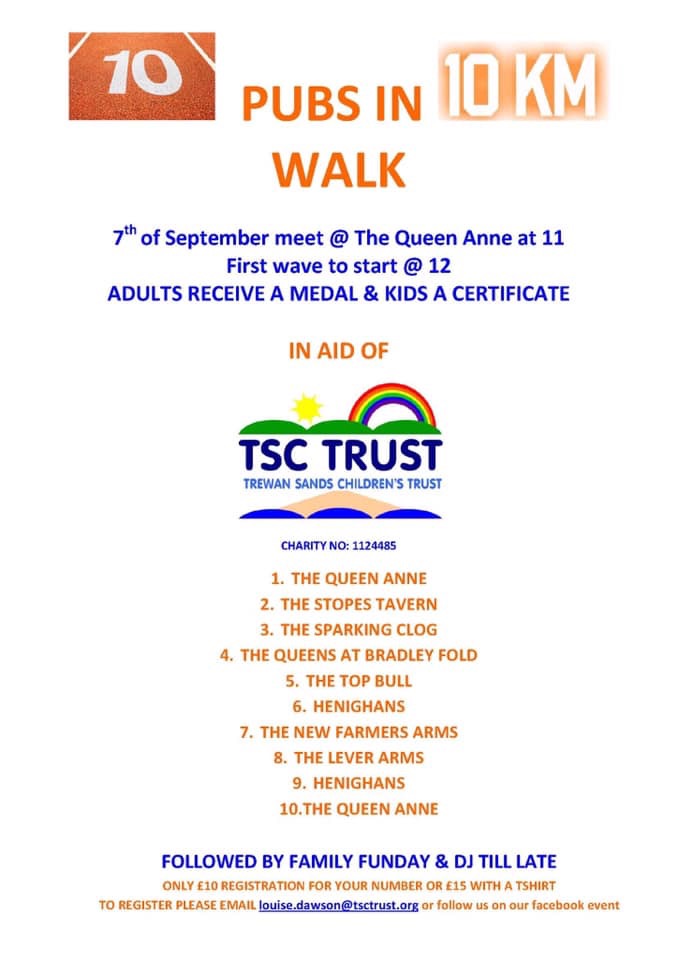 To Register is just £10 or £15 with a T-shirt https://www.justgiving.com/fundraising/kelly-rushmore2?utm_campaign=pfp-share&utm_content=Kelly-Rushmore2&utm_medium=fundraisingpage&utm_source=Facebook&utm_term=VRJ847WRn
We are pleased to introduce "Sandy" our new mascot
FAMILY FUN DAY Saturday, June 2 2018
A FAMILY fun day will be held to raise awareness about disabilities and terminal illnesses in children.
Trewan Sands Children's Trust is hosting an annual family event in Radcliffe town centre complete with live music, bouncy inflatables, raffles, face painting and more.
Residents are invited to the free event at The Bridge Tavern in Blackburn Street, Radcliffe bandstand and piazza.
Live music will be provided by local artist Dan Fielden, DJ Wayne, while an outside bar and burger van are also scheduled.
Visitors can 'pay per bounce' to use the bouncy castles or buy a £10 wrist band for the day.
The event takes place from 1pm on Saturday, June 2. All proceeds will go towards the Trewan Sands trust.


OUR FIRST MUSIC FESTIVAL
A Very Big Thank You to the Year 12 D&T Students of Burnham grammar School for creating these fantastic photo props they are amazing
xx (MF3)
Wear Your Pj's Day Success Featured In Bury Times

PR World Travel Party
INTRODUCING FRANKIE
Frankie was diagnosed with Brachycephaly at 5 months old. His head had been severely mis-shaped for a while before that. We were very concerned, but after waiting nearly 3 months for an appointment, we were told by NHS doctors that "his hair will grow over it when he's older"! By this point though, we had already sought private healthcare advice. His head was extremely severe; he measured off the chart that they use. There was treatment available, but it came at a cost of £1950. That would cover a helmet for Frankie to wear, and all follow up appointment. We were set for doing some fundraising, but Trewan Sands stepped in and covered the cost. A huge weight was lifted from our minds. Treatment commenced in February when he was exactly 6 months old. Frankie wore the helmet 23 hours a day, with just a short break each morning and evening. He wore it for 22 weeks and we saw a massive improvement before he outgrew it. As parents, we cannot thank the team at Trewan Sands Children's Trust enough, we will be eternally grateful.
Anthony & Natalie Cross xx
Congratulations and thanks to Simon Josh Devenport who recently ran the Manchester Marathon for us
TSC Trust Christmas 2015 Event
Our Christmas event was a great success. A fantastic day VERY BIG THANK YOU to everyone who joined us on such a dreadful day and a MASSIVE THANK YOU to all our staff for making it such an amazing event whilst creating "Memories to Cherish" We raised £692.31 on the day which was very generously made upto £850 by Dave and Gill at the Garsdale Pub in Bury.